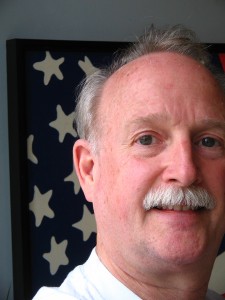 Personal Artist biography for Bruce Howard:
1976    BA degree, UCLA
1984    DMD degree, Washington University in St. Louis
1988-present
• Active in blown glass art
• member of Glass Art Society
• participated in many art shows such as Queeny Park,
Midwest Salute to the Masters, Vail Art Show, Schlafly
Art Outside.
• Attended many annual GAS conferences.
2010 Designed and created the awards for the Missouri Arts Council.
2013 Designed, fabricated, and installed  a 10 foot tall steel sculpture of a sunflower reading a book entitled "Passionate About Reading"  in the WingHaven Express Library parking lot adjacent to a community garden and the Lillian Yahn art gallery for the purpose of linking the arts, library and  community. The project was funded by the Regional  Business Council in Clayton.
2013-present
• President of the St. Charles County Arts Council in O'Fallon.
• Active in organizing art exhibits.
• Guiding the council in new directions as far as exhibits and artists.
• Attracting new artists.
• Working with a growing board to involve local artists and the local community in art activities.
• Helped arrange  St. Charles Community College classes  at the Council.
• Continuing to support local artists and encouraging the community to participate in  art projects and learn more about incorporating the arts in their daily lives.
• The Council, in addition to supporting local artists, encourages emerging artists through scholarship support to graduating high school seniors who are making art a part of their careers.